Hose Management
Extend Your Hose Life and Improve Its
Performance
— Reducing Costs,
Gaining Efficiency.
Start Reducing Costly Hose Repair in Your Facility
Eliminate a variety of hose-related issues that cause safety concerns, unplanned downtime, low product yield, or costly part replacements by engaging Swagelok® hose advisory services. Our experienced hose advisors will conduct site evaluations and provide prioritized improvement recommendations. We go beyond surface examinations to discover the underlying cause of failures or issues like kinking, selection, compatibility, length, and connections.
Our hose advisors will you help by:
Providing feedback on hoses, installation, inspection, and maintenance

Explaining hose selection criteria to improve hose life and performance

Suggesting standardized end connections and couplings

Developing preventive maintenance schedules and managing inventory

Documenting hose installation and wear concerns
Hose Advisory and Optimization
When a hose fails, it can bring down the production line or the entire system. Enter Swagelok® Hose Advisory and Optimization Services: Our hose advisors will identify ways to enhance your hose selection, installation, inspection, and maintenance procedures to improve hose life and performance. We'll go beyond surface examinations to discover the underlying cause of hose failures or issues.
What to Expect
Every customer, facility, and engagement is unique, but typically these are the steps when engaging with our Fluid System Specialists:
1. Analysis
If you are providing hose specifications, we will check to ensure that the results will meet the requirements. However, If you need our help to specify a type of hose, we will go through some steps which include factors such as size, temperature, application, material, pressure, and end connection type.
2. Fabrication
Our Swagelok-certified technicians will handle the fabrication. Swagelok assembly certification involves producing dozens of samples, each of which is inspected by Swagelok manufacturing engineers and put through destructive testing.
3. Quality Control
Every hose is pressure tested with water to ensure proper assembly and high performance. A pressure test certificate is then packaged with each hose. The rigorous assembly process and 100% testing ensure you receive a high-quality reliable hose.
4. Delivery
We clean and either cap or bag the hose to ensure contaminants are not introduced into your fluid system from the hose. Orders are shipped to you.



3 Steps to Hose Safety & Lower Plant Costs
Industrial hose safety is often deprioritized during regular plant maintenance. It is important hoses receive the attention they deserve—leaks and wear can put your facility at risk. Learn tips to avoid dangerous situations while lowering plant costs. Read More.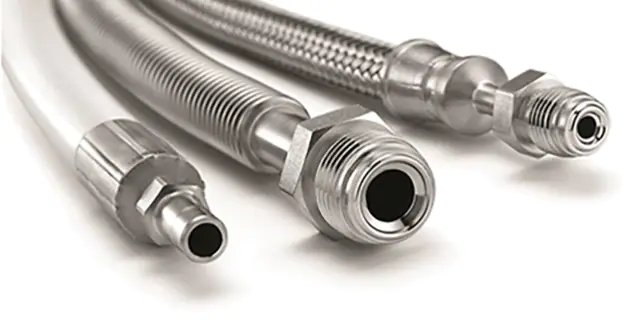 How an Industrial Hose Maintenance Plan Could Save Your Plant Thousands
Knowing the proper time to replace your industrial hoses can save your plant thousands in maintenance costs. Learn how to evaluate your systems and develop a preventive maintenance plan to manage the health of your hoses. Read More.
Maximizing the Life of Industrial Fluid System Components
The cost of replacing an industrial fluid system component goes beyond the price of the part. Learn how to lower system costs while maximizing the life of your components with preventive maintenance tips from the professionals at Swagelok. Read More.
Need more information, support, or quotation?
Give us a call at 603.8084.1818 or email us.